What is switchable glass?
Views: 2 Author: Site Editor Publish Time: 2022-08-10 Origin: Site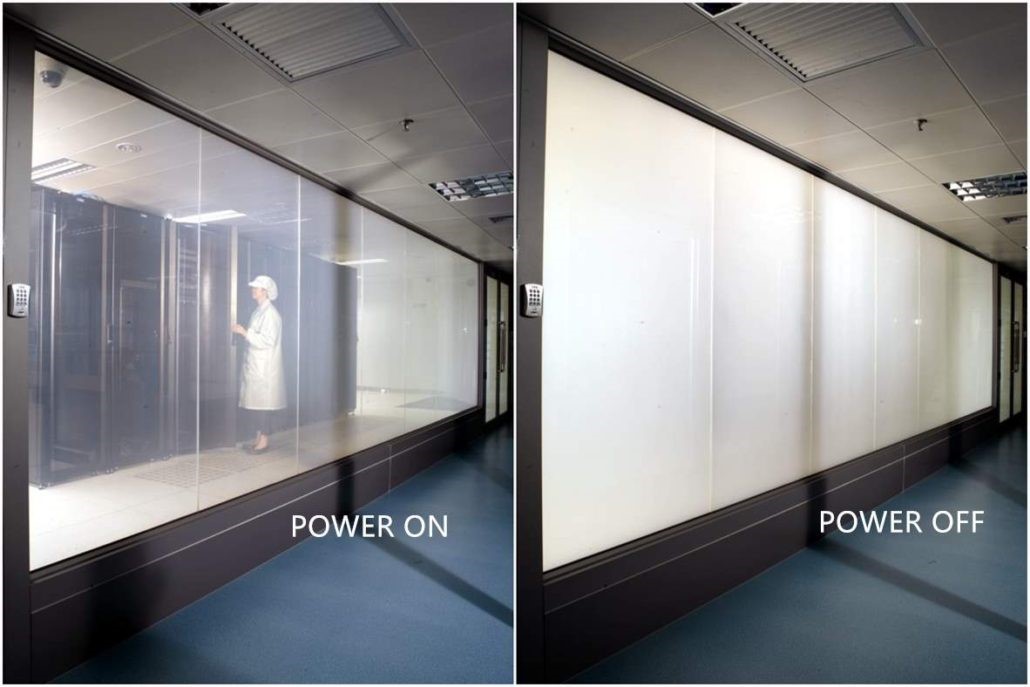 Switchable glass is also called smart glass or privacy glass, and is a new building material that combines smart film with glass. This is an innovative opto-electrical laminated glass composed of two layers of toughened glass on the outer side, PDLC film in the middle and other composite materials to form a sandwich-like structure. All those materials stick together firmly through special lamination machinery.
When powered off, it is opaque; when powered on, it turns transparent instantaneously. It's a safety glass that act as smart projection screen too. A variety of glass can be used, such as insulating glass, laminated glass, art glass, fireproof glass, etc.It can be widely used in room partitions,curtain walls,glass doors and windows.
1When broken it will stay on the original frame so that people nearby will not be injured.
2 There is no need for blinds or curtains.
3 It can save on air conditioning costs due to its insulation and 99% opacity.
4 It is multi functional, use rear projection to create a screen,or shopping window advertising.
5 Reduce the cleaning and maintenance associated with traditional windows and window coverings.
6 Use a mobile app to control it.
7 It can last at least 15 years.
PDLC (Polymer Dispersed Liquid Crystal) film is basically three-dimensional structures composed by liquid crystal microdrops dispersed in a polymer matrix. Polymer-dispersed liquid crystal (PDLC) films are useful in light control applications because they can be switched electrically between light scattering and transparent states.
Flexible PET film with conductive material coated by a "smart web" ITO film. The percentage of conductive material and PET film quality is a key factor in making PDLC film of good quality with high transmittance and resistance to shocks. The liquid crystal is sandwiched between the 2 ITO films by a lamination machine to make the PDLC film.
Other names for smart glass include; switchable glass, switchable film, PDLC film, privacy glass, dimmable glass, dimming glass, electronically controlled glass, LCG (light control glass), liquid crystal glass and switchable windows.
Non-adhesive PDLC film is the original material for laminated smart switchable glass.
Self-adhesive PDLC film has a peel and stick backing for easy installation, it's widely used in commercial and residential fields like shopping windows, projection screens, electronic blinds, and so on.
Smart Glass is compatible with most types of internal partition systems including sliding panels, IGU partitions and windows, and U or T profiles from most materials.
Depending on the different manufacturers, PDLC can be made in grey, various colours, with patterns or with temperature control formulations that increase green points in buildings.
PDLC glass is typically used for indoor applications, but some companies have outdoor grade technologies.
It consumes 5-7 watts per sqm. For perspective: 10sqm of PDLC switchable glass consumes less energy than one LED bulb.