WHAT YOU NEED TO KNOW ABOUT FIRE-RATED GLASS & FRAMING
Views: 2 Author: Site Editor Publish Time: 2020-05-15 Origin: Site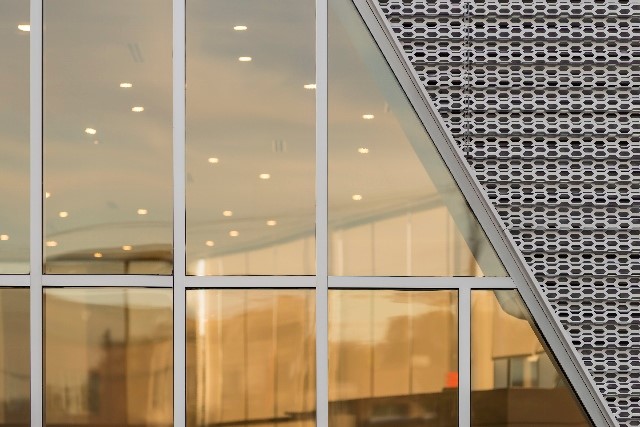 At their most basic level, fire-rated glazing divides buildings into compartments to help slow or stop the spread of fire. They are not just a means of providing fire safety—they are also a contributor to interior aesthetics. Unlike concrete, corrugated steel or other opaque fire-rated materials, fire-rated glazing can create open, luminous interiors and provide visibility for people entering and exiting spaces. This transparency can help project teams align fire and life safety plans with stylistic goals. But it necessitates a good working knowledge of the performance and design characteristics of today's offerings, as the material class has evolved significantly in recent years.
This article will explain what you need to know about modern fire-rated glass and framing, laying the foundational building blocks to help you choose the right products for your next project.
The critical distinction
There are two types of fire-rated gazing—fire-protective glazing and fire-resistive glazing. It is crucial to understand the differences between the two material classes since numerous products fall within each category, and incorrect specification can jeopardize the safety of building occupants.
Fire-protective glazing is specially designed to help compartmentalize buildings by defending against the spread of flames and smoke for its designated fire rating. It is typically suitable where building codes allow an assembly designated as 'opening protective' to enclose a space.
Fire-resistive glazing adds further protection by blocking the transfer of radiant and conductive heat. It is tested to the stringent fire-resistance test standards for walls (including ASTM E119 and UL 263), and can therefore exceed 25 percent of the total wall area. It is typically suitable where building codes require an assembly designated 'fire resistant' to enclose a space.
Understanding the options
Traditional wired fire-rated glass was once one of the most commonly used fire-protective glazing materials. However, its institutional appearance and risk of injury from breakage spurred manufacturers to develop wireless alternatives, such as specially tempered glass and fire-rated glass ceramic.
Today, a mainstay of the fire-protective market is fire-rated glass ceramic glass. It is clear and strong, with a crystalline structure that holds the material together under high heat. Once installed, this wireless product looks similar to ordinary window glass, providing great design flexibility. It is available with fire ratings from 20 minutes to 3 hours, comes in sizes up to 24 square feet per lite, and is available with up to Category II (CPSC 16CFR 1201) impact-safety ratings. Fire-rated ceramic glass can also be incorporated into insulated glass units (IGUs) to comply with energy codes.
One of today's primary fire-resistive glazing materials is transparent wall panels. This high-performing product incorporates intumescent interlayers that turn to foam when exposed to heat, allowing it to block the transfer of radiant and conductive heat for up to 120 minutes. It is tested in accordance with fire-rated wall standards, passes the fire and hose stream tests, and can offer up to Category II impact safety ratings and Level III bullet resistance ratings. The material's exceptional defense makes it suitable for use in wall-to-ceiling and wall-to-wall applications, or in full-lite glass doors. In appearance, it provides nearly the same level of clarity as ordinary float glass.
Innovations in fire-rated framing
While modern fire-rated glazing proved a significant improvement over their wired predecessors, design professionals quickly realized they were only as attractive and functional as the framing members holding them in place. Far too often, the thick profiles and wraparound form common in traditional fire-rated frames caused aesthetic discrepancies, impeded sightlines and limited transparency.
The move towards system solutions
Fire-rated glass and frames are increasingly available as part of a comprehensive system, instead of only as individual components. In these systems, the manufacturer ensures all components meet the same code requirements and work in conjunction to achieve a specific level of fire safety. From fire-rated glass floors to fire-rated glass curtain walls, these simple, elegant solutions can simplify specification and allow building teams to achieve a higher level of performance.